Off-Season Best Kept Secrets: December on Martha's Vineyard
By John Piekos, December 2007
I'll let you in on a little secret. Maybe I shouldn't be telling you this, but the off-season months on Martha's Vineyard are as special and magical, in fact, more magical than the sun-filled vacation months of July and August. Even though I am partial to any month of the year that offers great fishing on 'my Island', I have found that December is undoubtedly the most magical month of all on Martha's Vineyard .
December, like most off-season months, offers the most to those who crave the outdoors regardless of the weather. Actually, the weather is often milder than on the mainland, and you can golf, hike, beach comb, scallop or horseback ride in a hassle-free environment without crowds and traffic. Ferryboat tickets are easy to come by, so getting here is virtually stress-free. And as a bonus, prime parking spots are easily found in town, or within several yards of pristine beaches. Did you know practically all the town beaches are wide open during the off-season? But what makes December doubly special for me is the "Christmas in Edgartown" holiday weekend.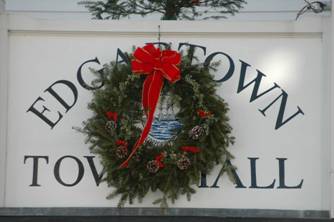 Christmas in Edgartown, scheduled for the second weekend in the month, offers a cornucopia off holiday activities for all ages and interests. Edgartown and Vineyard Haven each have a long schedule of activities well documented in the MV Times and Vineyard Gazette. For the past several years, my girlfriend and I have participated in many events. What I thought I would do here is summarize some of my favorite activities.

.

Nothing kick-starts the holiday season for me better than attending Donaroma's Evening of Enchantment on Friday night. A festival of lights and holiday cheer, Donaroma's Nursery opens up their doors and hosts a magical spectacle of holiday sight and sound. Meandering arm-in-arm with my girlfriend through candle lit pathways (video
) on the nursery grounds we are led under wreath-lined archways, serenaded by romantic and festive holiday music, all the while marveling wide-eyed at the multitude of lights and decorated trees,
After a glass of wine at the wine, cheese and eggnog tent, we stopped at one of several outdoor fire pits to warm our hands. We exchanged holiday greetings with several Islander friends who pass by and then we ventured inside the main greenhouse. It is within the main building that the Island spirit of this holiday comes alive. Each year my first reaction upon entering is total enchantment. Under a sky-like layer of twinkling lights (video
), guests snack and socialize between the many expertly decorated Christmas trees. Hundreds of seashell candles ring the shelves and tables. Santa and his Elf sit in the corner eager to listen to this years holiday wishes. Several Angelic beings glide past me as I mingle with the other guests. No, I am not hallucinating. This year's theme was Angels and finding your angel within. I find that many have found their wings, literally. Donaroma's provided several sets of costume Angel wings that guests were modeling.
The Evening of Enchantment wasn't so much a night of commerce for Donaroma's, rather it was a large holiday house party, and it seemed like everyone on the Island was in attendance. If this was the only holiday activity I participated in this weekend, it would have been well worth the trip. But this was just the start of the weekend.
On Saturday, we started off the morning with a nice cup of hot coffee from Mocha Mott's, originator of my favorite Island t-shirt quote: "No Off Season". (Yes I have the t-shirt – actually two of them!). Open 364 days, one cup of their coffee makes me quickly forget about Starbucks. With coffee in hand, the next event on this magical weekend was the "must see" Edgartown Christmas Parade at 10am. The Edgartown Parade lasts about 10 minutes and is full of small-town charm.
There were a total of two parade floats by my count in the parade, my favorite being the Black Pearl ship (video

). The crowd favorite and always a parade staple were Santa's animals, a small army of dogs and ponies that had everyone pointing out their favorite animal. The parade ended with an eagerly anticipated visit from Santa Claus (video

) who arrived in Vineyard Having by Ferry earlier in the day.
After the parade, there are many craft fairs, Inn tours, and open houses, but many revelers begin shopping the numerous 50% off sales offered by most local shops. While I am not a shopper, I am always on the lookout for a Vineyard bargain. I was able to pick up a very nice Menemsha Blues sweatshirt and hat, both 50% off, and found several antique Martha's Vineyard postcards to add to my growing collection. A limited edition Ray Ellis Fishing Derby print, at a reasonable price, still eludes me.
We headed back to Donaroma's for their Boxwood Christmas tree centerpiece workshop. This is always a lot of fun. All day Saturday Donaroma's offers a workshop on wreath-making and centerpiece creation. These wreaths and centerpiece trees can sell for $100 to $150, but for $30 you can rub elbows with fellow Islanders and make one yourself. Fear not, if you run into trouble you can always enlist the expert help of the many nursery staffers to help you create a unique holiday decoration for your home. For the second year in a row, my girlfriend and I have created quite the Boxwood tree centerpiece and we had a ton of fun in the process.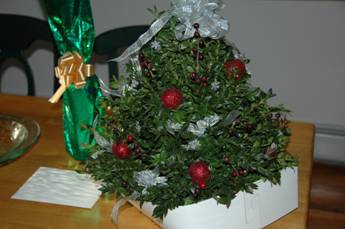 No festive weekend would be complete without the traditional tree lighting and caroling that accompanies the event. What better setting for such a tradition than downtown Edgartown? That evening we gathered with approximately 100 other revelers to see the Christmas tree lighting in the Edgartown village green. We listened to local carolers flexing their vocal chords while attempting to coax everyone else to join and sing along. Thankfully for everyone, I was manning my Flip Video camera (video

- sorry about the poor video quality!) and did not feel obligated to add my voice to the cacophony.
We capped off our holiday-cheer filled Saturday with a delicious early dinner at Alchemy, one of the best restaurants on the Island and also, notably, open year-round.
No visit to the Vineyard would be complete without a mandatory stop at South Beach and a stroll along the quiet shoreline. In the off-season, nature reshapes the sandy Beach and dunes as if it were an Impressionist painter's canvas. Virtually every time I walk along the beach it looks different, and this weekend is no exception (video

). The beach has grown over the last month taking the shape of an interesting sandbar/bowl, yet it still shows steep erosion approaching the dunes.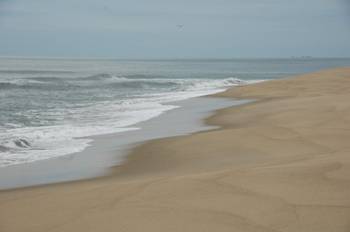 This weekend South Beach is particularly gorgeous, very tame with no wind the surf. We share the near-deserted beach with only a handful of people, walking along the dunes, taking photos and enjoying the beauty and serenity only found here in this magical place. In the off-season I always say it is crowded if I see more than two people on the beach.
It's Sunday morning, and after a delicious breakfast at Linda Jeans, we are off to Vineyard Haven for last-minute bargain hunting before our return ferry back to America and reality. Thank you Martha's Vineyard , home to my heart and soul...
Copyright ©2007 by John Piekos-All Rights Reserved.